Treatments & surgeries for foot and ankle conditions
Certified by the American Board of Foot and Ankle Surgery in both Foot and Reconstructive Rearfoot and Ankle Surgery, Dr. Perler specializes in
Trauma

Pediatric foot and ankle conditions

Sports and dance medicine

Peripheral nerve disorders

Advanced adult reconstruction

Total ankle joint replacement.
Dr. Adam Perler and the Alexander Orthopaedics team are committed to providing a personalized treatment plan and a positive experience for every patient. If you have a foot or ankle condition, please schedule an appointment today.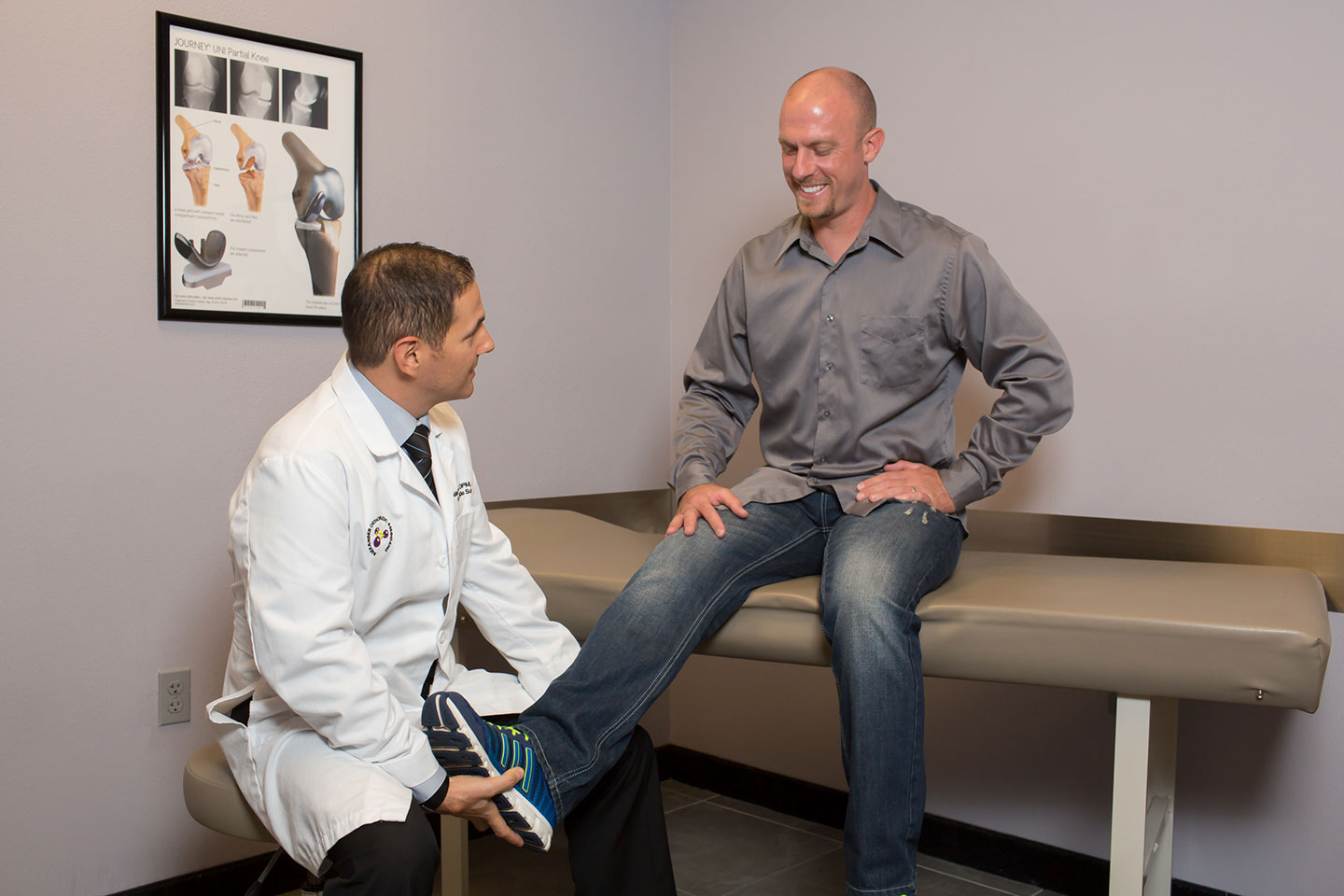 Patients with flat feet (flattening of the arch) may experience pain and difficulty performing regular daily activities. The flat foot reconstruction procedure uses titanium inserts to reconstruct the arch.
This technique provides more predictable outcomes than alternative flat foot treatments, and leads to a more comfortable and natural-feeling arch for the patient.
An unexpected and unplanned injury can be a scary time for anyone, but our goal is to get every patient back to a normal life as close to as they were prior to an injury.
Many injuries will heal and patients will regain full function of the injured area, but some can lead to long-term problems, like severe arthritis. Correcting the trauma at the time of the injury can often help healing and reducing arthritis or joint damage in the future.
Sports and Dance Medicine
Our team provides numerous rehabilitation options — such as therapeutic massage and scar tissue reduction surgery — designed to keep patients active during rehabilitation and feeling better faster.
As a member of the International Dance Medicine and Science Association, Dr. Perler is able to use the latest information and technology to provide the best possible outcomes for each patient.
Complex Peripheral Nerve Surgery
Peripheral nerve surgery and nerve decompression are complex procedures designed to preserve and restore function to nerves affected by diabetic neuropathy, sports injuries or other trauma, or pain after a total joint replacement.
Dr. Perler is one of few doctors in our area with specialized training in this field and holds these surgeries as the most rewarding and advanced procedure he performs.
Total Ankle Joint Replacement Surgery (Arthroplasty)
For patients with limited motion in the foot and ankle, the total ankle replacement procedure can help restore both normal motion and gate. Total Ankle Joint Replacement surgery involves removing the ankle joint and replacing it with a prosthetic.
Although there are higher risks involved, the tradeoff has higher patient satisfaction rates than fusion procedures. This is an outpatient procedure.
Ankle arthroscopy is a minimally invasive procedure that provides enhanced diagnostics for ankle joints through the use of a small camera inserted into the ankle on a slender tube (endoscope). Treatments can be applied during the arthroscopy that are therapeutic for soft tissue damage and cartilage damage, all with a speedy recovery rate.
Pediatric and Adult Reconstructive Surgery
Pediatric and adult reconstructive surgery is a broad term for a variety of orthopedic issues. For patients with chronic fatigue and an inability to perform daily tasks, this area of surgery can help reduce symptoms.
Patients who seek specialized care at the onset of the problem may experience superior results than adults with similar disorders, including more mobility later in life.