Foot and Ankle Surgeries & Treatments
From diagnosis to recovery, we are committed to our patient's health and well-being throughout the foot and ankle surgery process and beyond.
Treatments & surgeries for foot and ankle conditions
Certified by the American Board of Foot and Ankle Surgery in both Foot and Reconstructive Rearfoot and Ankle Surgery, Dr. Perler specializes in
Trauma

Pediatric foot and ankle conditions

Sports and dance medicine

Peripheral nerve disorders

Advanced adult reconstruction

Total ankle joint replacement.
Dr. Adam Perler and the Alexander Orthopaedics team are committed to providing a personalized treatment plan and a positive experience for every patient. If you have a foot or ankle condition, please schedule an appointment today.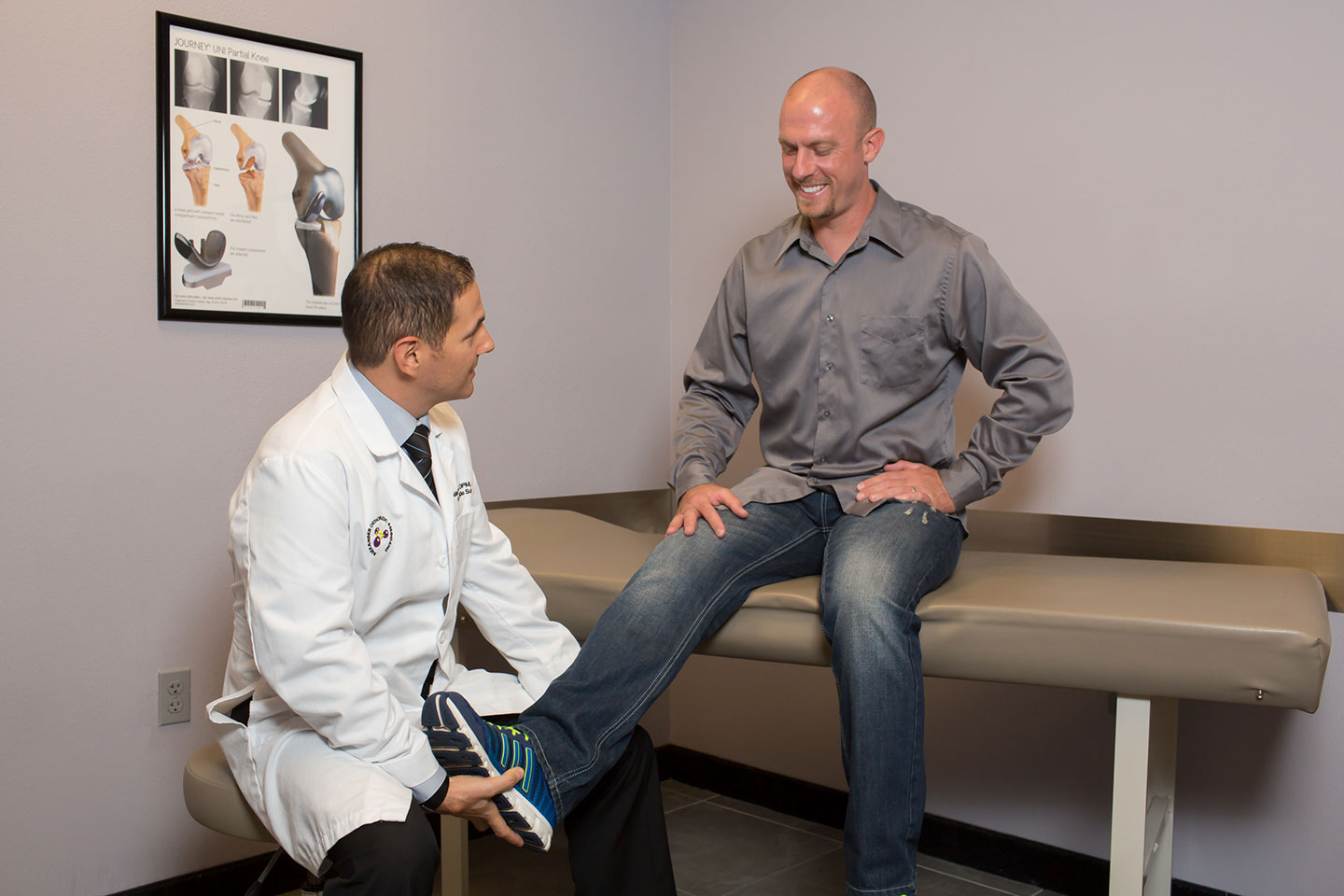 "I felt like an individual who was carefully listened to and understood in the course of my 9 months seeing Dr. Adam Perler, and most importantly, in his care my foot issues have gotten a lot better. I especially appreciate how cutting edge his knowledge is because that makes him highly resourceful in considering a variety of options for achieving the desired result. I've seen 3 podiatrists in my life and Dr. Perler is, hands down, the best one. He made me feel both comfortable and confident that I was in good hands. And as an added plus, the staff in his office are very professional and easy to work with."
Common Foot and Ankle Injuries
Fractures are actual breaks in the bone and can vary from a tiny crack or stress fracture to a shattering break. It's critical that fractures are immediately diagnosed and treated to receive the best possible outcome. Early treatment can greatly increase your chances of avoiding surgery or permanent damage.
Many times, a fracture causes the complete inability to bear weight, or move the ankle or toes. However, it can also feel and look very much like a Grade 3 sprain, so it's important to see a doctor for the correct diagnosis. Treatment options usually involve casting, booting, and sometimes surgery.
One of the most-worked tendons in the leg is the posterior tibial tendon. This crucial band of tissues attaches the calf muscle to the bones on the inside of the foot. When injured or worn, this arch-supporting tendon can slowly cause the arch to lower, causing the bottom of the foot to become flat. Though flat feet can be attributed to arthritis, neuromuscular diseases, and traumatic injuries, a compromised posterior tibial tendon is the most common cause.
Fallen arches can affect more than just a person's feet. Back and leg pain can both stem from flat feet. Some patients report limited foot movement, like the inability to stand on their toes. People with fallen arches experience swollen feet, tired feet, and more aches and pains in their arches and heels.
Shin splints are mostly linked to running and other sports but can occur after any type of physical activity that's hard on the lower legs. Repeated stress on the connective tissues around the tibia causes inflammation. Athletes who play high-impact sports, have recently increased the intensity or distance of their workout routine, or spent time running uphill are at higher risk.
This type of injury isn't just limited to athletes, though. The risk is also higher for people with flat feet or high arches, military recruits during basic training, smokers, and those who are overweight. Wearing poor-quality or certain types of footwear can also increase your risk for shin splints.
An unexpected and unplanned injury can be a scary time for anyone, but our goal is to get every patient back to a normal life as close to as they were prior to an injury.
Many injuries will heal and patients will regain full function of the injured area, but some can lead to long-term problems, like severe arthritis. Correcting the trauma at the time of the injury can often help healing and reducing arthritis or joint damage in the future.
Alexander Orthopaedic Associates is the only orthopedic practice in the Tampa Bay area that specializes in outpatient joint replacement surgery.
Common Foot and Ankle Surgeries and Procedures
Patients with flat feet (flattening of the arch) may experience pain and difficulty performing regular daily activities. The flat foot reconstruction procedure uses titanium inserts to reconstruct the arch.
This technique provides more predictable outcomes than alternative flat foot treatments, and leads to a more comfortable and natural-feeling arch for the patient.
Complex Peripheral Nerve Surgery
Peripheral nerve surgery and nerve decompression are complex procedures designed to preserve and restore function to nerves affected by diabetic neuropathy, sports injuries or other trauma, or pain after a total joint replacement.
Dr. Perler is one of few doctors in our area with specialized training in this field and holds these surgeries as the most rewarding and advanced procedure he performs.
Ankle arthroscopy is a minimally invasive procedure that provides enhanced diagnostics for ankle joints through the use of a small camera inserted into the ankle on a slender tube (endoscope). Treatments can be applied during the arthroscopy that are therapeutic for soft tissue damage and cartilage damage, all with a speedy recovery rate.
State-of-the-art surgery center, and recovery at home. Discover the Alexander Outpatient Advantage.
Total Ankle Joint Replacement Surgery (Arthroplasty)
For patients with limited motion in the foot and ankle, the total ankle replacement procedure can help restore both normal motion and gate. Total Ankle Joint Replacement surgery involves removing the ankle joint and replacing it with a prosthetic.
Although there are higher risks involved, the tradeoff has higher patient satisfaction rates than fusion procedures. This is an outpatient procedure.
Pediatric and Adult Reconstructive Surgery
Pediatric and adult reconstructive surgery is a broad term for a variety of orthopedic issues. For patients with chronic fatigue and an inability to perform daily tasks, this area of surgery can help reduce symptoms.
Patients who seek specialized care at the onset of the problem may experience superior results than adults with similar disorders, including more mobility later in life.
Sports and Dance Medicine
Our team provides numerous rehabilitation options - such as therapeutic massage and scar tissue reduction surgery - designed to keep patients active during rehabilitation and feeling better faster.
As a member of the International Dance Medicine and Science Association, Dr. Perler is able to use the latest information and technology to provide the best possible outcomes for each patient.